Dive Georgia Aquarium with Seaweed Diver

See Whale Sharks, Mantas, and 1000s of Other Creatures Up Close and Personal

October 28, 2017

This trip is one of our most popular, so don't wait to sign up! There are only 16 spots for divers each trip!
These are 2016 Prices and are Subject to Change
$363 Dive Experience

$428 Rebreather Experience – NEW!!!!


Add-On Options

$79.00 Whale Shark or Manta Diver Specialty

$39.00 Adult Bubble Watchers (Non-Divers)

$30.98 Kids Bubble Watchers

$33.12 60+ Bubble Watchers
All our prices include the taxes, so they vary a bit from GA Aquarium's Website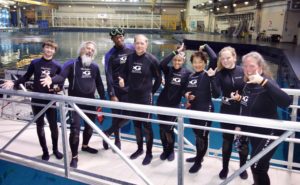 Have you ever seen a whale shark or manta ray up close and personal? If not, now's your chance. Come participate in the Georgia Aquarium's new Journey with the Gentle Giants program. This is an amazing and rare opportunity to SCUBA dive (or snorkel) with the largest fish in the world, the whale shark, in Georgia Aquarium's Ocean Voyager exhibit. This 6.3 million gallon exhibit houses thousands of fish including two manta rays, sand tiger sharks, zebra sharks, sawfish, leopard whiprays, bowmouth guitarfish, humphead wrasses and schools of tarpon, pompano and cownose rays.


Note:

If the 11:00 am sells out we will hold the 3:00 pm slots. They only allow 8 people in twice per day to dive with the sharks.
Payment is Due in full for the Dives When We Sign Up
Trip price does not include accommodations. JR, Tina and Family Stay at the Red Roof Inn in Cartersville, GA. Room prices are around $59 per night.
Program price includes admission to the Aquarium, all equipment, the swim or dive, certificate of participation, dive log book, t-shirt and souvenir photo. DVD will be available for purchase. Equipment provided: mask, fins, tank, buoyancy device, regulator, weights, booties and wetsuit. Personal masks are permitted, but will be required to be disinfected.
All you need is a swim suit. We supply all the gear at no additional cost (you may bring your own mask if you like). Our trained dive staff will be your personal guides for the entire journey. Come and join us for an experience you'll never forget!